"What is that?!" I heard when my hubby walked through the door. "No worries!" I replied, "I have a plan!" My $1.50 thrift store find might look a little scary, but I see some potential!!
Just jump on my boat, K?
First I primed her & then gave her a nice coat of black! (My mom's gonna hate this! Black is not her thing!)
Now... What to fill it with?.... No room in the budget for flowers. I will have to make some. I know that Sizzix has a fantastic die-cut rolled flower that you can make but I don't have a Sizzix....hmmmm (sniff sniff). I think I will cut something similar to theirs!
Since I have no colored paper I printed the Star Spangled Banner & My Country 'Tis of Thee off my laser printer (ink jet would probably smear, but you could probably photo copy as well)...


from here & painted it by rubbing toll paints on the paper w/ an old rag. My door is very protected by my roof, but you could add a layer of Modge Podge to add some shine & endurance. It's close to Independence Day so I decided to go w/ Red/ White & Blue.

Here's a finished flower:





Not bad for paper , paint & scissors, huh?
Start by cutting a basic flower. Don't worry if it's not perfectly proportioned!





Now snip in between one of the petals and cut more petals in a spiral fashion...


Keep going until you reach the center.


Now start with the center and give it a good tight twist to create the center. (Did I just show you my disgusting painted fingers?!)


(In case you didn't see, here's my fingers again!) Now twist some more... keep going.. until there's no more!



Now just hot-glue them on your project! The glue will stop them from unraveling. I used a white petticoat for the center of my black thing-a-ma-jig that I made for my baby's blessing dress a couple of years ago that went horribly horribly wrong! I just wrapped it in a ball and glued it in my "black thing-a-ma-jig", then added my flowers.

Now for the leaves, from the same paper just cut...





Now fold in half...




Now fold the center in an "L" shape.




It needed something more so I found some red tulle to stick behind & made a sign out of some old jeans, a ribbon & modge podge & voila!


Here's the end result:
What do ya think? You can say you hate it, but please don't really hate it. :)
** BTW, I am linked up w/
Funky Junk Interiors
and
Somewhat Simple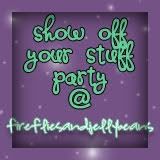 .